To see Brazil and Germany win matches in World Cup is not a surprise. But the Mannschaft compete the Selecao in a World Cup, that's what assimilates more of fiction.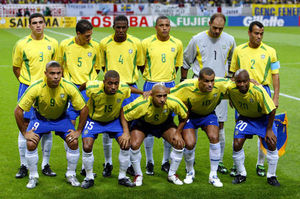 Pele against Franz Beckenbauer, Scorâtes faces Karl-Heinz Rummenigge, Romario verses Luther Matthaus. This was never heard of. Such a match became a kind of "impossible" game in the history of the World Cup, and certainly a curiosity for international football.

Both selections have played more games in World Cups than any other team (83 for Brazil and 82 for Germany), but the Brazilians (4 times world champions) and Germans (3 times world champions) seem destined never to cross.

Once again, the draw for the 2002 World Cup hosted by South Korea and Japan did not lie to the tradition, the Mannschaft and the Selecao will not meet unless both reach the final, to be played June 30th in Yokohama.

On several occasions, both selections have yet been on the brink of confrontation.

In Swedish World Cip in 1958, a final between Brazil and West Germany seemed to be written in the sky. But the host country, Sweden, has denied that this meeting happens on its territory. The Swedish football team beat the Germans, title holders, in the semi-finals (3-1) to compete the final against Brazil which eliminated the French.



Twelve years later, in the mexican World Cup in 1970, the long-awaited final seemed finally to be realized. In the semi-finals Brazil beat Uruguay (3-1). The Germans are on their way to the final. They led the Italians by two goals to one. The world is preparing for a match between Brazil and Germany. But the Azzuri have refused to be less forgivable for both teams as the Swedsish. They have achieved a memorable victory over the Mannschaft (4-3 after extra-time) and face the Selecao.

In 1974, the World Cup hosted by West Germany, a match between the brothers-enemies, West Germany and East Germany, has deprived the fans of football to see a match between Brazil and West Germany. In this World Cup, the East Germans beat those of the West (the strongest in football) in the first round and met the Brazilians who came out victorious (1/0).

So will the Asian land will allow fans to see the Selecao and the Mannschaft on the same ground in 2002 World Cup, the first in the 21st century, or the fans of football should wait until 2006 in Germany to see such a match? Only the coming days will tell.