Friday February 3rd, second game of quarter-finals of the CAN 2006: the host country (Egypt) faces the DR of Congo at the Cairo Stadium. Everything is different between the two selections. Yet if anyone looks more closely, both teams have a none negligible common point : in these times of sports globalization and the massive recruitement of African footballers in European clubs, DR Congo and Egypt are still depending in majority on "local" footballers who play in their national championship. But the phenomenon has different roots in each one of the two countries. Decrypting ...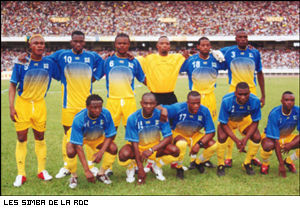 This was the first great feeling of this CAN 2006. On the ground stage of the Military Academy in Cairo, the Simba beat without question Togo, who is just quilified to the world Cup (2-0). Rapidly reduced to ten in the next game, the players of DR Congo nevertheless managed to defeat Angola, otherwise qualified for the World Cup. Inhibited against Cameroon, Simba finally left the competition in the quarter-finals, dominated by Egypt.

At the end of each game, the men of Claude Le Roy will, seduice however attractive, even frankly amaze. The surprise was even more beautiful because this team was built largely around local players, when most of the African selections are now composed of professionals playing in the biggest European championships. Upon disposal, the French coach announced his resignation. A great adventure ended, but the team had shown that for African selections, the "local" way might be passable.

Before the CAN, the French coach kept hammering his credo. In interviews and press conferences, Claude Le Roy was repeating the following sentence: "A local talent is better than a professional way". For the experienced French coach, it is a philosophy of the game as much as a desire to engage the forces of a nation rich in football talent.

Still young and not formatted by the professionalism in the European way, these players were favorably detonated. "Enough of big balèze in football and physical strength. I think of the game, the technics. It's the football that i love...that I have always defended! Football is also an art, we must not forget that", hits Claude Le Roy, who never fails to enjoy his revenge on râleur and Scoffers:" They told me I was crazy by aligning five small players. But when I see Zola Matumona (see box), which measures 1m60, fight and take the ball by head, I think my players are extraordinary".

"Athletic and solid players"
Still the question of body size remains? In other words, the pocket Congolese footballers can successfully build a career in the long term? For their coach it is a false debate: "If they were sick, if they found the ground at the slightest touch, I wouldn't take them in my team. But these players are athletic and strong. More generally, the size argument has its limits. Maradona, was he big? Messi, he is two meters? "

Reintroduce the madness and inventiveness in football in 2000, is the target for Claude Le Roy, who does not hide his immoderate liking for dribblers. "Football today is dying because of their absence! Thanks that Barcelona exists, thanks there are the Simba! "



Claude Le Roy likes to give another example of this longstanding commitment to the beautiful game: "At the time, when i was the coach of Strasbourg, I launched Péguy Luyindula, another player from RD Congo. Before his first match as a holder, I called him and I held the following speech: 'This is your first match, you will be very observed, the public will not be necessarily soft. But have no fear, and even if you miss some gestures, continue to try, try not to discourage yourself because I promise you will be a holder for the following five matches. "

Another sign of this commitment, convert some strikers to play in defensive positions. The example of Gladys Bokese, the libero of Simba is eloquent on this subject: "He was a first-level midfield. But he was missing a little something to become a front-center of international level", says Le Roy . I converted him to be a libero because of his vision of the game and his quaities of controling the ball. Generally, I like to do so. I've done the same with Emmanuel Kunde.

Monitoring work
By trusting his young local custody, Claude Le Roy has also given the means to carry out monitoring work. With this frame-based country, gather his staff is easier. And approaches to early detection are concrete extensions. "I do a lot of field observation, including the selection benefits. If I didn't go see local clubs in Kinshasa or elsewhere play, if I did not watch the tournaments in the province, I would not found all these young talents", said the French coach.

He addes : "It is a work of substance. I had done the same to Cameroon in 80's. It was me who shaped the team of 1990, those of Tataw, Omam-Biyik, Kana-Biyik, Massing, Kunde etc.. At the time I was sometimes criticized for having rejected Abega or M'bidi, but I held my cap ... "

Even before the announcement of his resignation, Claude Le Roy had doubts about the possibility of such in-depth work in DR Congo. "The beautiful momentum may unfortunately not last" regrets the coach. All these players will surely be spotted by recruiters. They will start very soon in Europe. If only this departure could be delayed for a season or two it would be possible to make significant progress in the country, in the wake of our current good performance. "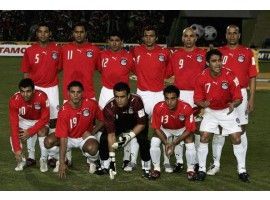 The time might be the thing that miss the most this country, which has already lost alot in a terrible civil war that has killed 4 million persons. Claude Le Roy is well aware: "This country is still recovering, bruised. Having a team of mostly locals is also a sign of national reconciliation. That counted a lot in my decision", says Le Roy.

The main limit of this system resides in the absence of local clubs who worth that name. Only the Almighty Mazembe (known at the time of Zaire under the name of Englebert) provides infrastructure and a quasi-professional. The same lack of resources does not spare the national team.

"I dis not ask for much", says Claude Le Roy. The most urgent task was probably to have training grounds in good condition and surrounded by fences. Today, when a ball is found in the bush, it is a crowd, with dozens of children who rush and three minutes talking to retrieve the ball, because a ball represents one month's salary ... How can you work with full concentration in these conditions? " concludes the former coach of Simba.

This lack of land with legal dimensions is not without negative consequences on football practice. Like many countries in sub-Saharian Africa, DR Congo has no goalkeepers of quality. Even if they prove their effectivety, the style of these goalkeepers is rarely academic. Pascal Kalemba, goalkeepr of "Gabon Téléstar" club and the Simba, is no exception to the rule ...

Another risk, not always easy to conjure: to see the national team being cut in two, between local and professional. In this regard, Claude Le Roy does not kick into touch : "The professionals that I have left on the bench do not take it all well. A coach must always be careful to avoid developing some ego problems".

Clubs too greedy


such difficulties also affect the Egyptian selection. Contrary to his Congolese counterpart, poor and briefly held, the Egyptian league is one of the best in the continent. The gap is much smaller with Europe. However, if several Egyptian players have already crossed the Mediterranean, few have succeeded abroad permanently. While other countries of North Africa (Algeria, Tunisia, Morocco) have a growing number of local talents go exercising their art in Europe, Egypt remains immune to that trend.

In this CAN, the Pharaohs have distinguished themselves with a team of over 80% of players from the national championship, which the clubs regularly excel in African Champions League. One of them, al-Ahly won the 2005 edition of this competition. But the quality of the championship in Egypt can be sufficient to explain the low tendency of Egyptian footballers expatriation? Nothing is less certain ...

"After that Egypt won the CAN 1998, 14 players had gone abroad. Many quickly came back", said Chawqi Gharib, Assistant to the Egyptian selection coach Hassan Shehata. Only Mido, Hossam Ghali and Mohammed Zidan took root in Europe.

For the assistant coach, it's all a matter of adaptation: "The professionalism in European way means the seriousness and commitment. But too often, Egyptian players do not commit unless they are under psychological pressure. They become famous too easily here, and tend to rely on that reputation quickly gained.

While many Egyptian footballers are making their careers in their country, it is also because of the quality and opulence of the local clubs. According to Chawqi Gharib, these clubs have a role in that. "We must admit that the Egyptian clubs exaggerate about the price of young players. They are too greedy and want often to sell them at prices of big stars ! This is an obstacle to their departure abroad".

According to the assistant coach of the selection, the case of Mido, who is now the Egyptian footballer best known in Europe, is an interesting example-against : "The player left at the age of 18 years for a small price . In my opinion it should go this way to open the door for the transfer of our best players under the age of 21 for the benefit of the Egyptian football ! "

The sports authorities of the country seem aware, remains to translate this commitment into action. Already, after the CAN 1998, President Mubarak gave recommendations to facilitate the transfer of young Egyptian players abroad. "But the clubs have continued to do what they wanted", says Gharib Chawqi, who calls for more firmness application of such guidelines in the future.

Ahmed Fathi, the pride of Ismaili


At 21 years old, Ahmed Fathi continues his progress. Playing for the Ismaili club since the age of 16 years, the defender (midfilder) medium-sized (1m76, 72 kg) rose through the ranks one by one without any problem. Launched gradually in the league, he competed in the 2003 Junior CAN in Burkina Faso with Egypt as a holder. Today it's his second CAN with the national team. "When I was a kid, I watched the CAN games on television, I dreamed of participating in the field, now it's done", says number 7 of the Pharaohs, who doesn't want to stop in the road : "My dearest wish is to play one day in a big European club", says the young man, recently became fiance. Aligned in place of Mohammed Abu Treka for the match against Morocco, Ahmed Fathi has missed a big opportunity in front of the opposing goalkeeper in the first half-time. "I know I must progress more. I should particularly improve my quality of midfielder", recognizes the ambitious player who shold be observed...


Matumona Zola, he is called "Roum"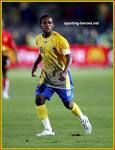 Since his childhood, he was called "Roum" ... as Rummenigge, the great German striker of 80's, with whom he has little in common, if not enviable efficiency. At 25 years old, Zola Matumona is no longer a junior since long time, but this offensive axial midfielder waited for this CAN 2006 to break the screen. Originally from the Bas-Congo and player of the AS Vita Club, this playmaker impressed everybody by his surgical precision of his left leg and its panoramic vista. Always well placed in the intervals, Zola Matumona improves all the balls that pass between her little feet. Net as his tignes is dense, the set of "Rum" had already unleashed a year ago the envy of the big clubs of South Africa, Kaizer Chiefs and Orlando Pirates in the first place. At the time, Matumona Zola did not respond, perhaps anxious not to "buries himself" far from Europe. Will the Old Continent look at him by sweet eyes? Time will tell ...


The local players selection by selection
Angola (10) Goalkeepers: Goliath (Sagrada Esperanca), Lama (Petro Atletico). Defenders: Delgado (Primeiro Agosto), Jacinto (AS Aviaçao), Jamba (Aviaçao), Lebo-Lebo (Sagrada Esperanca), Loco (Benfica Luanda). Midfielders: Miloy (Interclub), Ze Kalanga (Petro). Forwards: Love (Aviaçao).
Cameroon (0)
Côte d'Ivoire (0)
Egypt (19) Goalkeepers: Issam al-Hadary (Ahly), Abdel Wahed al-Sayed (Zamalek), Mohammed Abul Monsef (Zamalek). Defenders: Ibrahim Said (Zamalek), Tarek al-Sayed (Zamalek), Mohamed Abdel Wahab (Ahly), Ahmed al-Sayed (Ahly), Wael Gomaa (Ahly), Ahmed Fathi (Ismaili). Midfielders: Mohamed Shawki (Ahly), Mohamed Abou Trek (Ahly), Mohamed Barakat (Ahly), Hassan Mustafa (Ahly), Ahmed Eid Abdel Malek (Harass al-Hodud). Forwards: Hossam Hassan (Masry), Imad Metaeb (Ahly), Abdel Halim Ali (Zamalek), Osama Hosni (Ahly), Amr Zaki (ENPPI).
Ghana (4) Goalkeepers: George Owu (AshantiGold). Defenders: Issa Ahmed (Ashanti Kotoko), Aziz Ansah (Kotoko Ashanti). Forwards: Prince Tagoe (Accra Hearts of Oak).
Guinea (3) Goalies: Kémoko Camara (Hafia FC), Naby Diarso (Satellite FC). Midfielders: Sékouba Camara (AS Kaloum).
Libya (17) Goalkeepers: Samir Abbud Abdussalam (Al-Ittihad), Saad Muftah Ghzalla (Al-Ittihad). Defenders: Mohmoud Maklouf Shafter (Al-Ittihad), Younes Shibani Alhousen (Olimpic) Essam Rajab Blal (Olimpic), Osama Hamadi Mashbih (Al-Ittihad), Najee Saed Shushan (Al-Ittihad). Midfielders: Waled Ali Osman (Al-Ittihad), Saad Madi Belkhir (Al Hilal), Mohamed Marei Suliman (Al-Ittihad), Abdesalam Kames Ezwae (Olimpic), Khaled Hussen Hussen (Al Nassar), Salem Ibrahim Rewan (Al -Ittihad), Ahmed Faraj El Masle (Al-Ittihad). Forwards: Ahmed Mahmoud Zuway (Ahly Benghazi), Nader Karra Amhimed (Olimpic), Ahmed Saed Osman (Ahly Tripoli).
Morocco (6) Goalkeepers: Tarek Jarmouni (FAR Rabat), Mustapha Chadli (Moghreb Tetouan), Nadir Lamyaghri (Wydad Casablanca). Defenders: Houcine Ouchela (FAR Rabat). Midfielders: Hafid Abdessadek (FAR Rabat), Mohamed Madihi (Wydad Casablanca).
Nigeria (1) Goalkeepers: Dele Aiyegnuba (Enyimba).
DR Congo (10) Defenders: Gladys Bokese (DC Motema Pembe), Felicien Kabundi Tshamalenga (FC St Eloi Lupopo), Ngandu Kasongo (TP Mazembe), Nono Lubanzadio (SC Cilu), Benmond Nsumbu Dituabanza (AS Vita Club). Midfielders: Ngasanya Ilongo "Saddam" (DC Motema Pembe), Pitshou Zola Matumona (AS Vita Club), Tresor Mputu Mabi (TP Mazembe). Forwards: Alain Kaluyituka (AS Vita Club), Mbokani bezw (TP Mazembe).
Senegal (1) Goalkeepers: Pape Mamadou Diouf (Jeanne d'Arc).
South Africa (17) Goalkeepers: Moneeb Josephs (Ajax Cape Town), Calvin Marlin (SuperSport United), April Phad (Jomo Cosmos). Defenders: Siboniso Gaxa and Ricardo Katz (SuperSport), Tshepo Masilela (Premier United), Vuyo Mere (Mamelodi Sundown), Jimmy Tau (Kaizer Chiefs). Midfielders: Joseph Makhanya, Daniel Tshabalala and Benedict Vilakazi (Orlando Pirates), Mlungisi Gumbi (Golden Arrows), Siyabonga Nkosi (Bloemfontein Celtic), Simphiwe Tshabalala (Free State Stars). Forwards: Lebohang Mokoena and Siyabonga Nomvete (Pirates), Katlego Mphela (SuperSport).
Togo (3) Goalkeepers: Safiou Salifou (Dyto FC). Midfielders: Gouyazou Kassim (shooting star). Forwards: Aliru Audu (AS Douanes).
Tunisia (5) Goalkeepers: Ali Boumnijel (Club Africain), Hamdi Kasraoui (Esperance Tunis). Defenders: Wissem Bekri (CS Sfaxien), Issam Merdassi (CS Sfaxien). Forwards: Amine Ltaif (Esperance Tunis).
Zambia (6) Goalkeepers: George Kolola (ZANACO). Defenders: Kennedy Nkethani (ZANACO), Mark Sinyangwe (Green Buffaloes). Midfielders: Numba Mumamba (ZANACO), Lameck Njovu (Lusaka Dynamos). Forwards: Dube Phiri (Red Arrows).
Zimbabwe (8) Goalkeepers: Tapuwa kapin (Highlanders), Energy Murambadoro (CAPS United), Gift Muzadzi (CAPS United). Defenders: James Matola (Buymore). Midfielders: Francis Chandidia (Buymore), Lloyd Chitembwe (CAPS United), Ronald Sibanda (Amazulu). Forwards: Brian Badz (CAPS United).

This article is written with Patrick Juillard for the french magazine "Foot Africa"