This article was written with Arnaud Saint-Jean for www.lepetitjournal.com
The Egyptian football championship resumes Rights tomorrow. Once again, the main interest will be which club can finally beat Al-Ahly, holder of the title and unbeaten for two years. Review of various forces.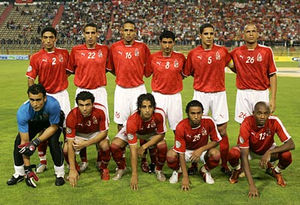 In Cairo, it is called the "invincible red fort" and his players are the "Red Devils". With 31 titles of the egyptian championship and a world record of two seasons without defeat, the club al-Ahly seems once again unbeatable. By winning last week the Egyptian Super Cup (1-0 against the club ENPPI), the club of the capital has clearly warned its opponents this year, the ogre is Al-Ahly.
Trying to avoid the boring monopoly which can lead to loose all interest in the championship, the organizers decided to make the task more difficult and revive the suspense, the championship starts with a major innovation: the number of teams increased from 14 to 16, four additional games to play, four marches more with the hope of tripping al-Ahly. The two newcomers called Petrojet and Assiut Petroleum, they inspire distrust already. Created from scratch by the oil sector, these two clubs have large resources. A bit like the club ENPPI, ownership of a large oil group and supported by the Ministry of Oil, which finished the last season in 3rd place.
But resources do not ensure the quality of play. Zamalek, another Cairo club and historical rival of al-Ahly, could be again the demonstration. Eternal second, Zamalek began the season mired in administrative problems and has lost two of his players who joined al-Ahly. At radius of outsiders likely Ismaill dream of finally justify his nickname of "Brazil of Egypt". New bodes well, the club announced two days ago the return of his player Hosni Abd Rabou, who leaved last year to try his luck in Strasbourg. As for the other ten clubs involved in the competition, they should be content to fight for a place in the soft classification.
The purpose of these clubs will be virtually anonymous to avoid especially the last two places in the ranking, which mean relegation to the second division.
After the World Cup, the screens will be out again on the streets, with their clusters of supporters. So Ahly Ahly or not? That is the question...