The cyber attack that Estonia had recently faced has put highlights on the potential risks of the so-called "virtual attacks" againest the technologically advanced countries. A debate has been organized at the first session of Geneva Forum on security.
The attacks against the public and private installations in Estonia last may by some Russian "cyberpirates", which led to the disruption of computer systems (IT), have led experts to call them "the first virtual war"..This event has raised fears that such attacks can be turned into terrorist operations.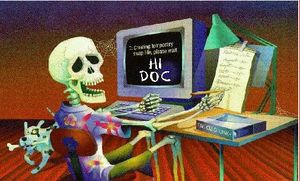 In this context, Miko Hiponnen, Finnish expert on information security, said that most defence ministries are currently studying the best ways to prevent such attacks..He explained that the "Pentagon" has recently published a report in which the american department of Defence pointed out that some armies in the world, like China, have created specialized units in carrying out virtual attacks.
George Jovi, expert on anti-cyberpiracy, affirms the importance of the subject that had not yet taken seriously..The expert, who has previously worked for the Royal Institute of International Affairs in London, gives the example of war which took place between Israel and Lebanon during the summer of 2006, which coincided with a "virtual" battle between militants of both sides.
Meanwhile, Alison Niles, director of the International Research Institute for Peace in Stockholm, sees that the computer could be turned into a weapon for poor countries or armed groups..She is Noting that information technology is a weapon of "asymmetrical war" against rich and technologically advanced countries.
But Hiponnen does not believe that the transformation of cyberpiracy into a virtual terrorism. "Terrorist groups want the physical destruction and loss of life to provoke terror, while virtual attacks cripple only Internet service providers (server)", he added. On the other hand, Hiponnen noted that crises and cultural and ideological conflicts provide an atmosphere quite appropriate for virtual attacks.
In this context, Hiponnen reminds of the crisis of "comics" of Prophet Muhammad which was followed by attacks against the websites of several Danish media. However, this phenomenon is still in its early stages so far. But the societies characterized by the development of the Internet have become easy targets for such attacks.
Carlos Moreira, President of "WiseKey", a Swiss company that specializes in information security and which organizes the Geneva Forum of security, explains that the race to possess information weapons could cause huge losses economically.
Ritz Rudy, head of "central recording and analysis of information security", a body which coordinates procedures to protect information in Switzerland, said that at present it is impossible to prevent such attacks aimed to disrupting "servers" of any enterprise or institution..He added that any company can not distinguish between legitimate or hostil visits to its website .
He sees that the only way to avoid these attacks is to grow numbers of service and increase technical communication capabilities of the authorities in the countries that could be targeted by these attacks. "International cooperation will also facilitate the process of identifying computers that are the sources of such attacks", he says.