"I dreamed of this moment hundreds, thousands of times and it was currently happening in real life. I was dreaming even during my training. This is perhaps even better to live in dream", said Julien Absalon, after winning the gold medal in Mountainbike in Beijing.
ATV's Olympic Champion in Beijing 2008, Julien Absalon became the only french to have retained his crown individual won in Athens 4 years ago. "This victory is different because it is a confirmation. It's almost more difficult than winning the first time. It feels more pressure. But we know better what constitutes a gold medal at the Olympic Games, then I'll further enjoy, "he said.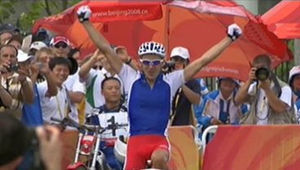 Immediately after his victory, Absalon, 28, who has also retained the French tradition of cross-country since the victory in 2000 by Miguel Martinez, has already set a new goal: to shine one last time in four years the Olympic Games in London to end a career which has already seen all win, including four world titles in a row from 2004 to 2007.
The love of Absablon, a native of Raon-aux-Bois in the Vosges, for mountain biking has come a bit by accident. At the age of 15, the bend walks with a neighbor and friend in the Vosges forests.
On difficult trails, and with his bike that weighs a ton, Julien had fun. It is not a passion for the job. He did not even have the ambition to become number one. He just ran kilometers into the woods with one goal, namely to visit Emilie, his future wife, and return.
Before discovering the ATV at 13 years old, Julien Absalon was a "turbulent and not very diligent at school." "But the day I discovered the ATV, I liked it. My parents warned me if I wanted to do, I had to walk to school. As a result, I started to optimize my working time so i can find time for training and races. And I have progressed rapidly in the two sectors, "he recalls. "Before the ATV, I touched everything: football, skiing, judo, basketball, volleyball or swimming. Between six and ten years, I had to go ten times to emergencies. Thanks to mountain biking, I calmed down."
His astonishing speed drew attention. After only a few months, he was selected by the Committee for Lorraine to participate in Championships in France. When he remembers his beginings, he smiles. His bike was so rotten and people had pity for him that someone lent him one. Absalon finishes fourth in this race. He has demonstrated his capacity. Indeed he won other races, he incorporates training course and joind mountain biking french team.
In 1999, is the physical blow, a double compound fracture after a fall in bicross. This will be a simple judgement because it always comes back to finish strongest, he won the fourth place in the World championship for juniors, and be offered a professional contract for two years to continue his progress. During this period, he gathered national, European, and world trophies.
At 21, his father died, Absalon said that he had the strength to go back on a bike, but fortunately, Emilie, his family and close friends had convinced him to continue his career and keep his rainbow jersey.
Absalon kept collecting trophies. Nobody has been able to snatch the world title from 2004 until 2007, a period where he became a head of the world rankings and won his first Olympic triomphe in Athens that he has dedicated his father.
Despite a track record also completed, Absalon had never said ready to proceed to professional cycling on the road. "My brake N.1 is the doping which affects professional cycling", he added. "I will never be the best on the road it will certainly makes me annoyed", he acknowledges. "Above all, I like the violence of the effort to ATV where the best is the one who wins and not a runner through the strategy of his team."
Olympic Champion, the rider is accompanied on the tour by his wife Emilie. The couple met on the benches of the college. Twelve years later, they pushed their alliance to win races in tandem. "Despite all his victories, Julien has not changed, has not caught the big head. He remains a simple boy with the feet on the ground, available to others. He is much more less selfish," said Emilie, 26 years.
His failure in the world championship, last June, was a reason for him to be reorganized. According to his coach Gerard Brocks "It's a good thing, it put his ideas in place".
The secret of success Absalon is that he plays on his bike. He has talent but wants to have pleasure. While following the advice of precisely, coaches, he wants to move forward and gives himself the means to learn the rules of the highest level.
For his wife, Absalon's progress owes nothing to chance. "he is always a perfectionist. If his coach asks him to drive for 4 hours and he arrives after 3:58, he still runs in circles for two minutes," she says. A perfectionist who, once again, claimed the top step of the podium in Beijing.