The Cairo club won the African Super Cup. Another record. Still realised against a Tunisian club
Again again and again again ! As "expected", after winning the African Champions League last November, Al-Ahly has further tightened its monopoly on African football, by picking up his 4th Super Cup in Africa, Friday evening in Cairo, registering a new record.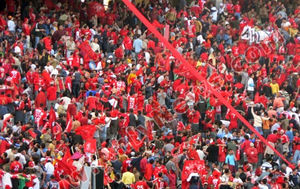 Yet deprived of their flagship game leader Mohammed Abu Treka, the "Red Devils" beat the Tunisians of Sfax (2 / 1) in a prestigious game between the winners of the Champions League and the Confederation Cup. Played in Cairo, the meeting took on the appearance of revenge: in 2006, the two clubs met in the final of the Champions League, Al Ahly crowned after a dramatic game in which he won the second leg in Tunisia.
Friday evening, led by the Angolans Gilberto and Flavio, the armada of the "Red Citadel"did not leave much room for Sfax's deams. Running to defence in first half of the game, the Tunisian players have yet been able to impose their style of play but from the second minute of the second half, the Angolan international striker Flavio opened the score for a Ahly by an amazing header on a corner shot by his compatriot of "Palanca Negras" Gilberto.
The bogyman for the Tunisians : Sfax does not slow to return to the game. They got the draw few minutes later by a big mistake of the Egyptian defence. But once again, the Angolan stars saved Al-Ahly, on an contre-attack. The score was sealed : 2-1 to Ahly who added a new title to his trophy., The most prestigious in the black continent.
Voted "Club of the 20th century in Africa," Ahly confirms its reputation as the "bogeyman" of Tunisian clubs: Champions League in 2005 and 2006 and African Super Cup in 2007 ... Cairo club has won most of his last trophies against the Tunisian teams.
And the question always comes back : who will be able to tear down the "Red Devils" from their thrones?
Trophies of al-Ahly

Clubs Worldcup : Bronze Medal in 2006
African Champions League 1982, 1987, 2001, 2005, 2006 and runner up in 1983 and 2007
African Cup of Cups 1984, 1985, 1986, 1993
African Supercup 2002, 2006, 2007, 2009 and runner up in 1994
Afro-Asian Cup 1989
Arab Champions League 1996
Arab Cup of Cups 1995
Arab Supercup 1997 -1998
Egyptian League (33 titles) 1949, 1950, 1951, 1953, 1954, 1956, 1957, 1958, 1959, 1961, 1962, 1975, 1976, 1977, 1979, 1980, 1981, 1982, 1985, 1986, 1987, 1989, 1994, 1995, 1996, 1997, 1998, 1999, 2000, 2005, 2006, 2007, 2008
Cup of Egypt (35 titles) 1924, 1925, 1927, 1928, 1930, 1931, 1937, 1940, 1942, 1943, 1945, 1946, 1947, 1949, 1950, 1951, 1953, 1956, 1958, 1961, 1966, 1978, 1981, 1983, 1984, 1985, 1989, 1991, 1992, 1993, 1996, 2001, 2003, 2006, 2007
Supercup of Egypt 2003, 2005, 2006, 2007
Sultan Hussein's cup 1923, 1924, 1926, 1927, 1929, 1931, 1939
Cairo League 1939, 1942, 1943, 1948, 1950
United Arab Republic (Egypt and Syria) 1961
This Article was written for www.magalif.fr