They are young, still students or young parents, French with North African origin or French recently converted to Islam. They seek in the land of the pharaohs what they believe to be the source of a pure Islam, as benchmarks or roots they have lost.
Al-Rehab: Halal City for French Muslims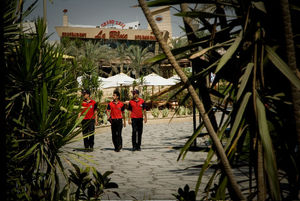 Alcohol-free restaurants, mosques and niqabs ... The city of Al-Rehab, in the suburb of Cairo, is shown as a "haven" for Muslims. Built in the early 90s to address the housing crisis, it now attracts foreigners, including French looking for another islam.
As the muezzin calls for Friday's prayer, a cohort of Europeans with long beards appear in the streets of Al Rehab. They go to the mosques, especially to the one they call the "Red Mosque" ... As the famous Salafi Mosque in Islamabad. According to Abdul Rahman, a 27 years old American who learns Arabic and the Koran in Egypt, there's no link between the two mosques : "It's just to distinguish the different places of worship in the city". Al Rehab in Arabic means "large and comfortable place where people live in safety". The city was designed to be a kind of 100% halal city, a paradise on earth for Muslims. There are indeed dozens of identical buildings, villas with swimming pool, shopping malls, restaurants, schools, a sports club and a hospital. Everything is thought that the resident has everything they need on place. To enter, they must have an Identity issued by the compagny managing the city to prove that they possess or rent a housing unit.

City with no alcohol or pork Despite the Western lifestyle of its inhabitants, there's not any store or restaurant debiting of alcohol. Only a grocer sells it, but ... under the cloak. Yet this trade is not officially banned in the city. Soha Eissa, head of marketing in the Talaat Moustafa Group, creator of Al Rehab, justifies this by the fact that none of the owners of shops and restaurants, has offered to sell. However, the rules of the city shows that the municipal authorities monitor all activity. Whoever wants to start a business must inform the authorities of what he wants to sell.

For Said Gamal, head of mosques, the city offers a new way of living in Egypt, healthier: "The idea of Al Rehab is to build a society that respects the Islamic Shariah: it serves no alcohol or pork, and there are no casinos or brothels ... all things prohibited in Islam". However, he stresses that the goal is not to be an extremist society : "We will not accept the example of Hamas in Gaza or the Taliban in Afghanistan. Our goal is to have a moderated community, he says. Al Rehab is not a state within a state. We follow the laws that apply in Egypt".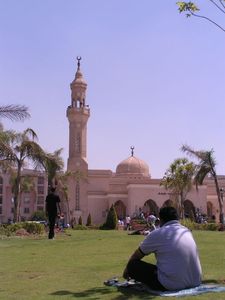 A gradual influx of French Muslims In recent years, foreigners have made their appearance in the city. At the time of prayer, it became common to see young Europeans having a beard and wearing capris gallabiya rushing, Adidas on their feet, to one of the six mosques in the city. An outfit that detonates in relation to Egyptian Muslims who are rather in western clothes. These newcomers come to Egypt to learn literature Arabic and the Koran in the study centers that are developed in Medinet Nasr, the Cairo suburb located 10 minutes from Al Rehab.
According to estimates by the Embassy of France, 600 to 900 French Muslims come each year to Egypt for training. Among them, some have invested in property in Al Rehab, then renting their apartments to other students who come from France, England, the Netherlands, the United States, etc.. Among these people, Nasser originally kabyle, a sportsman of 33 years old to the tunes of Zinedine Zidane. A former student at the center of Ibaanah, he is married to a French woman of North African origin also. Father of three children, he bought a flat in Al Rehab to live in : "It's better than downtown Cairo which is very polluted ... Here my children can enjoy the greenery, the club, and they are close to the daily standard in France".

Salafis or just practicing? For seven years that the city exists, it has gained more notoriety among foreigners than among Egyptians. Nasser knew about it by word-of-mouth three years ago when he went to spend a month in Cairo to learn Arabic. Internet forums also provide its reputation. French or British Sites, as Mejliss El Kalam for example, frequented by Europeans hungry for knowledge about Islam, are filled with rental offers posted by foreigners who own apartments in the city. There are even French Muslims working as leasing agents in the city as Abu Dawood who writes a blog on Al Rehab.

Their way of dressing and lifestyle sometimes evoke those of Salafi they keep to themselves and do not coexist virtually with Egyptians. Even when they want advice, they seek it within their network. But Nasser rejects the label of Salafi : "I do not categorize people. I am a Sunni Muslim who tries to follow the track, period". As for himself, Tarek, a Dutch convert to Islam who learns Arabic and lives in Al Rehab, confirms his choice for Salafism "I see no harm in trying to follow the way of life experienced by the early Muslims".

For his part, Djamal (ex-Frederick), 33 years old, a French convert to Islam since ten years and married with a French-Maghreb girl, said near the Salafi thought, even if he doesn't agree with some of their ideas. He held the way of dressing called Salafi because he thinks it appropriate in a Muslim country. In France, he can not do it without problems.

An environment in isolation Mohammed Shaker, a dealer residing in Al Rehab, also notes that foreigners are almost never mingle with the Egyptians: "They cause no concern and they do not want problems", he says. They are not extremists, they just apply Islam as they see it. But the Egyptians will think of other things". For Nasser, it is because of communication difficulties :"I am not familiar with their dialect, but I'd like to have egyptian friends. They are better placed to give me advice".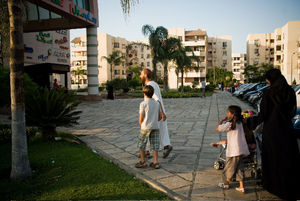 The influx of foreign Muslims in Al Rehab dates back to 2003, that of French has increased in 2004, when the law banning religious symbols in schools was passed in France. Among them, many women wearing the full veil, niqab, while the subject is controversial in France ...

Even if he denies that Muslims are oppressed in France, Nasser admits that his wife has quit her job when she decided to wear the hijab. Djamal, also said that French Muslims are free in spite of the controversy. Both sides believe that the issues of hijab or niqab are too publicized : "The newspapers want to sell and there's nothing better than the subjects of Muslims in the light of the prevailing Islamophobia", says Djamal. Nasser, meanwhile, finds that the debate about the niqab is "ridiculous" because women who wear it don't represent more than 1% of French Muslims women.

If these practitioners chose Egypt is to live freely their Islam. Key step in their journey: the learning of literature Arabic to understand the Koran. It is the country which then offers the best value in this regard. For Nasser, the Arab professors here are more qualified. He also chose this country because the visa is easier than Saudi Arabia or Syria. For his part, Gamal Said believes that these students prefer to Egypt for its moderate Islam. An astonishing justification since they are not enrolled at the university of Al Azhar, a symbol of moderate Islam in the Muslim world ...

The "immigrants" under surveillance Sometimes the stay of the foreigners go wrong. Last year, a young French resident of Al Rehab has been evicted by local authorities: "He had strange ideas. He has insulted the ulema and spoke without any respect to the imams. We informed the city authorities who expelled him", says Said Gamal, who nonetheless defends monitor residents ...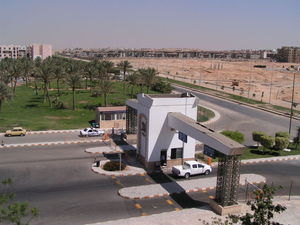 After the bombing of the esplanade of the Al Hussein in February 22th 2009, which caused the death of a young French tourist, about 20 French students have been expelled. The Egyptian authorities have begun to be very vigilant. Nasser has heard of the arrests, but he does not believe that foreigners living in Al Rehab are involved: "Given the price of flats and rents ranging between 300 and 600 euros per month, residents have some level of education that do not bear to be involved in such acts. I think the suspects rather live in Al Hai Al Aacher and Al Tagamu'a Al Khamis, two neighborhoods near Al Rehab where rents vary between 40 and 100 euros per month".

However, Nasser was a little afraid that his tenants students are involved in the attack...A fear shared by other owners, as Raef Abdel Salam, 37 years old, an Egyptian who had rented his apartment for a year to one French, found a month later a second tenant in place, then a third, while the contract was still in the name of the first...

Djamal, who was vacationing in Al Rehab with his family, said that a true Muslim does not have recourse to violence against civilians: "I do not think that French came to Egypt to commit terrorist acts. In my opinion, if they want to prepare this kind of thing, they remain in their country".

The fact that these students live in a gated community and they are not enrolled at Al Azhar gives the impression that there's a network behind all of that.

A well-informed Egyptian source said that generally, the French do not cause any problem: "But we must remain vigilant because they may be influenced by extremists infiltrated the madrassa, or in those circles". According to this source, the French authorities cooperate with Egypt on this issue, especially in exchanging information. But Nasser denies categorically any influence. He retains only the good memories of his trips to Egypt: "Nobody tried to involve me in anything".

His future, Nasser dream of it in Al Rehab. He wants his children to learn their religion away from fitna (sins) "unique to the West". The problem of Muslims residing in France, he said, is that they do not give a lively interest in education and, consequently, they are always found at the bottom of the basket: "I want things to change for my children", he adds. An idea shared by Djamal who wishes to raise his family in Islam while maintaining the quality of Western life. In this regard, Al Rehab offers them everything they want ...


A city on the American model homes
In the early 1990s, Hicham Talaat Mostafa, an Egyptian business tycoon, decided to build a city modeled on the U.S. private residences. Initially targeting the Egyptian middle class, he chose a field outside Cairo where there is no pollution or noise. Seven years ago, the price per square meter was 880 Egyptian pounds (175 euros). Today, it reached 5800 pounds (725 euros with taking in account the variation of the egyptian currency). The majority of residents are now wealthy Egyptians, Gulf Arabs and foreigners. Over 6 million square meters, Al Rehab nearly 100 000 inhabitants.
Hisham Talaat Mostafa is no longer at the head of the city. The billionaire, a close of the government may be hanged. He is accused of ordering the murder of Lebanese singer Suzanne Tamim. He is now in prison awaiting the verdict of the Court of Cassation.

Halal Definition
In common parlance, "Halal" means all foods permitted to Muslims and specified in the Koran. The word also means the way in which the animal was slaughtered. But the same word in the Arab-Muslim culture characterizes what is allowed in Islam. For example: having sex with his wife. opposed to haram halal means anything that is forbidden, like alcohol, adultery, lying ...
In a Madrasa in Cairo
They are French and Muslim. Exile or escape of short duration, staying in Egypt allows to these young women, many of whom are of North African origin, to live, according to them, in accordance with the precepts laid down by their "Creator". But it is not easy to follow the letter of Islam "pious predecessors" in the days of McDonalds.

A small sign, very discreet, hung on the ground floor of a building. The school is located at Medinet Nasr district charmless hastily constructed in eastern Cairo. Malika, a pretty blonde wearing a long black robe, greets us. Our visit intrigue her. She takes us in a classroom reserved for women. We understood that classes will not be mixed. We are without doubt the first two non-Muslim students of this school. But that makes her happy. Our presence is evidence that this center, which already has 300 students, 80% of them are French, is still developing.
The current passes quickly between us. We explain to her why we want to learn Arabic. She is amazed that anyone could be interested in this language without being Muslim.
This girl, who comes from the south of France has totally lost her singing accent in favor of a Fosha, literature arabic, without the less mistake which she learned in just three years. Which motivate any student to attend classes. From her big blue eyes outlined with kohl, Malika smiled, somewhat embarrassed, kept looking at our clothes : "The pants are prohibited. We prefer long skirts. that must seem weird for u. Imagine how I feel in France with my niqab".
The young woman gave us the rules of the center. It says it is "forbidden to be involved in politics, in a terrorist group or religious sect within or outside the center". A warning which indicates the willingness of the school to expel students who have unclear motivations, the "bad apples" as one student said.

First learn Arabic In our class, we are surrounded by two French girls: Zohra, a native of Algeria, and Safia, of Moroccan origin. Safia speaks Arabic well. But she has chosen to review all its bases in Fosha to be sure to correctly pronounce: "When you read the Koran, she says, the mispronunciations are sins". The young woman arrived in Egypt with her husband a week ago. She is already exhausted. Her eyes show it a little more each morning. She did not sleep well for three nights. Her apartment is located in Hai El Asher, one of the most popular neighbouhoods of Medinat Nasr. Last night, her Egyptian neighbor began to make holes in the rust bucket at 1am. Her husband went to knock on the door of the troublemaker: "He told them that respect for neighbors was one of the principles of Islam in France and our unbelievers neighbors respect us more! He was surprised ... "she laughs. We imagine the head of the Egyptian receiving a lesson of religion by a French. It's the world upside down.
Safia does not seem to recognize the lifestyle of the Egyptians or even in how they live Islam. She still has not visited the pyramids and is in no hurry to discover the old mosques of downtown Cairo. They are. for her, too rich gilding. "It's a sin for us all that gold. The money used for decoration should serve the poor".
If Safia and her husband have chosen Egypt that was for three reasons: the quality of arabic courses, the low cost of daily living (90 euros six-week session of courses and a rent of 200 euros per month), and the Iqama, residence visa, which is readily available, unlike Saudi Arabia or Syria. For the rest, France remains the reference.
Egypt, for Safia, is just a step. Once she and her husband have completed their session in two months of Arabic, they will settle in Morocco. This young Muslim dreams to be a stylist specialized in hijabs. A project in France seems to be, for her, a compromise: "I am from the suburbs of Paris, I'm veiled, I don't have alot of money. Enter a high school of stuling in Paris is really hard". The young woman has already made patterns of viels. She hopes that all Morrocan women put them starting tomorrow.
Between classes, a little blonde of 14 years old passes near by us. Sorel, French, has converted to Islam five months ago. She lives in Cairo since two months ago with his big sister, also converted, and her Muslim husband. A male presence that prevents her from removing her veil in her house. Her daily life is, she admits, somehow not comfortable, but not so far to attempt to close this Egyptian parenthesis. An event has just upset her plans today. Next month's class schedules are different from those of her sister. "That means I have to stay alone in the apartment with her husband. And Islam forbids it. I'll have to return to France by the end of the week". We remain stunned at such a remark.
Sorel already knows what awaits her in France: "I will return to school by correspondence. I can not go to school because they do not agree with my veil". No way for her to go to a private school where her niqab would be tolerated : "These schools are mixed and I do not want to mix with men because it is also haram". The bell rang. We are shattered by the words of Sorel which are not breathing happiness. She seems overwhelmed by her decision to embrace one of the most rigid branches of Islam.

At the same time, a little ghost that you can only see two green marbles to the location of the eyes, passes like the wind before us. Behind the thick black cloth hides a small blonde barely 10 years old bringing the niqab with the pride of a girl who imitates his mother. This time, we're not the only ones to be shocked. We meet the gaze of several girls who disagree that a girl at this age hold such clothes. Among them, Zohra, 22 years old, a girl from Bordeaux who has Moroccan roots and studies with us.

Zohra came to Egypt alone, motivated by her grandmother who learned Arabic here. On arrival, she had only one address, that of an Arabic school. The first day of classes at the center went wrong. Seeing her Egyptian teacher masturbating, she left immediatly the school. Just by chance, she ended up in our school. This little brunette with a big smile, who is just beginning to learn Arabic, stands out from other students. When she leaves the Markaz (Learning Center), she wraps a little scarf around her head. Locks of hair above, but she laughs: "It's too hot to cover the head". Behavior that the teacher, an Egyptian, criticize. One morning, when the French girl came with eyes and lips slightly disguised, teacher suggested that she goes wash her face. New exasperation of her teacher at the break, when she pulled out a bottle of Coca-Cola from her bag. "This is a Zionist company...It's not good to drink this". Not disconcerted in the least, Zohra went as dry buy a can of Sprite, another kind of drink that comes from same company. "The teacher will not notice ...", she said with laughing heartily.

Students crossed at the entrance to the school are wearing the latest Nike Air under their gallabiya. With their long beards, if even some of them may have been well educated in France, they take a fleeing look and ignore our "salam aleikoum". To our surprise, the most rigid of them have white skin and blue eyes! Zohra was not surprised by their attitude: "These people live cut off from the world, even in France", she said. In a consumer society, marked by technological breakthroughs, as it seems difficult to adopt the lifestyle of the Prophet Mohamed ...

Between classes, we met Sophie, 22 years old,. With her translucent skin and the mole on the corner of her mouth, she has the air of Laetitia Casta. A beauty that she hides until her fingertips when she is about to cross the door. I caught up awkwardly asking her to meet her outside the classroom. "Yes, with pleasure, that's my number. Come and drink tea with me", she replied in a soft and warm voice. Sophie does not live far from the center. Getting there is nevertheless a true HeapQuiz. All buildings of Medinat Nasr were constructed identically forty years ago. The streets do not bear any name, and numbers on the buildings do not meet any logic. After a small street away from main roads, a building on three levels.
On the top floor, a man opens for us, obviously very embarrassed, he closes it bluntly: "My wife is the opposite door!", he tells us with his hand sticking out of the door.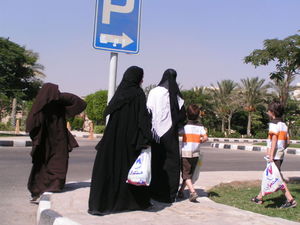 Still too far from being perfect A little surprised, we turn to ring the door indicated. Sophie is opening, dressed in a black dress less austere than it is at school. On her head is tied, in hurry way, a dark scarf that she keeps resetting. She seems much more relaxed than when we met between the two classes. Here at her home. A large living room with white walls devoid of any decoration, large windows with dirty white curtains blowing in the wind and, on the floor, a baby lying on a small quilt. Her son of 8 months she gave birth in Egypt.

Sophie speaks of her former life and events that have led to the way she is today. Up to 17 years old, she was a Parisian girl of the 13th district as the others. Her little brother turned to Islam when he was 14 years old: "Just by chance. He wanted to go to church and he found himself in the mosque". Two years later, Sophie was converted to islam : "I felt a strong call from God. I did nothing but answer..." Quickly, she married, on the advice of her brother, another converted man that she heard occasionally preaching at the mosque.

The bride then went a few months in Cameroon, where her husband is from, to spread the message of Islam to "ignorant". She then finds a vocation: to spread her faith to non-Muslims. It is the only "profession" that Sophie would do well today. Neither she nor her husband are working yet. They live on their meager savings. "The place of women is foremost in her home. She must look after her children and her husband, and study religion", she says.

Her decision to wear the niqab came after her marriage. Sophie knows that there's no text forces a Muslim woman to cover her face. "But it is supererogatory, which means it is an additional gesture, very pious, very appreciated by God". To be "closer to her Creator", the young woman decides to wear the full veil, against the advice of his husband.

After an hour of discussion, Sophie goes to seek her husband. He is, according to her, better placed to answer questions about Islam. But we are embarrassed because we are not veiled. "Do not worry, he'll talk to you behind a curtain". Sophie make us then sit on the carpet and her husband speaks to us from behind a thick gray fabric. For two hours, like a preacher in a mosque, He recommends us a "path" in Islam. We repeat after him aloud the end of important sentences he utters. One way for him to make us integrate the foundations of religion.

As he was intrigued by our motivations, we take the opportunity to ask him if, in his eyes, we are kafir (disbelieving). His answer is unequivocal: "Christianity is a polytheistic religion, that's the worst of sins". This young French Muslim who is 25 years old knows his religion through the writings of Ibn Taymiyya and Muhammad Ibn Abd Al-Wahhab , founder of Wahhabism.

At school, two weeks after our arrival, we found that new faces were covered. "We can not deny that there is a group dynamic. The niqab is a little the fashion in the school", says a student who just started to wear the full veil. "I put it only to protect myself from the sun", she laughs. Among female students, the competition is who will get closer to the origins of Islam. The escalation is ongoing: one girl said she was going for Yemen, another has done it the next day. The race to hassanets (good deeds) does not seem to know boundaries ...

The point of view of Egyptian intellectuals


Soad Saleh, a professor at the University of al-Azhar: "These institutes are good insofar as they teach Arabic, which facilitates communication between people. That means, they must absolutely be supervised by Al Azhar, the symbol of moderate Islam. These centers should not become hotbeds of terrorism or entities that convey thoughts extremists, as we see today in Egypt with some satellite channels".

Gamal El-Banna, great reformer of Islam and younger brother of the founder of the Muslim Brotherhood: "The education in these centers is positive if it stops at the point of teaching Arabic language. Teachers should not influence students toward a particular thought. They should not approach the study of Koranic texts or islamic laws. Their role should be limited to teaching Arabic and Tajweed, pronunciation of the Quran. I am not surprised by the presence of many Salafists in these schools. They are the source of such education, especially after the decline of Al Azhar. I refuse categorically that these centers are supervised by Al Azhar who has lost its religious role for government support. The Egyptian authorities can do nothing against these madrassa. "It is for religious intellectuels, and not public servants, to correct the misconceptions in these schools".

Egypt and the hunting of fundamentalists

They have locked us up all night without telling us what happened and why we were arrested. Late at night, we were taking one by one upstairs in the police station to answer questions: 'Where do you live?', 'With whom you study?', 'What do you think of jihad?". The stay trip to Ismaeliya has been ended, for Karim, 23 years old, by expulsion from Egypt.

The French guy, who testifies what he lived on the forum Mejliss el kalam, lived with Sheikh Raslan, well known to foreigners, in suburban Cairo. One weekend, he decided to discover Ismaeliya, east of the country with friends. There, police officers, no doubt attracted by their Islamic dress, take them to police office. His scary story reflects the real witch hunt that engaged the Egyptian authorities against the French fundamentalists. It seems that the Embassy of France didn't rush to rescue them. "I have not seen sunlight for fifteen days. We did not know what happened to us. After five days, we were transferred to another prison (...). One brother who was with us had the phone number of the Embassy of France. We called them and they told us that we would be excluded. We couldn't even take back our things".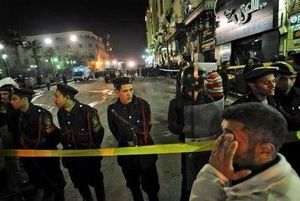 Practically the same story happened with Romuald Durand, another French man. On 21st of April, this young guy who studies Arabic was arrested at Cairo airport as he prepares to return home. However his visa is valid. Upon his release from prison in last June 22th, Amnesty International, which has campaigned for his release, published a communique in which we can read : "Romuald Durand said he was blindfolded and handcuffed wrists during this period. He added that he had been tortured and otherwise ill-treated during its first ten days of detention at the Intelligence Service of the State Security (ISS) in Medinet Nasr. He would been undressed before giving him electric shocks while he had his arms and legs stretched and attached. He has been slapped and stepped on, he was forced to stand for hours. Romuald Durand also claims that members of the ISS threatened to rape him. He asked to contact the Consulate of France, a right guaranteed by international law, but he was told: 'Here, even if Sarkozy himself wanted to come, he could not'".

Following the attack in Khan El Khalili (Cairo) February 22th, 2009, Egyptian authorities have arrested seven people (including two British and a French woman of Lebanese origin). Some of them had used the pretext of learning Arabic to live in Egypt. Since then, the authorities are closely monitoring students in Arabic. Twenty of them were expelled earlier this summer.
This article was written with Marion Touboul for the french magazine "Courrier de l'Atlas" (Special thanks for Pauline Beugnies)