Born on November 20th, 1979, Hind Sabri, the Tunisian star, studied in French schools. She has attracted the biggest names in cinema in Tunisia at the age of 13 when she played in her first film. Since then, the beautiful Tunisian actress has not stopped earning the admiration of spectators. Artist with a postgraduate degree in law from "Tunis University", the World Food Program has named her ambassador through his humanitarian activities.

How did you start your career in the cinema?
I started it completely by chance. One day I was walking with my father, and we crossed the Tunisian director Nouri Bouzeid. At the time, the director Moufida Tlatli was looking for a 13 or 14 years old girl for The Silences of the Palace. Bouzeid has spoken about it to us and introduced me to Tlatli who gave me a cast and chose me. Then in 1995 I was asked by the French director of the film "Black Sheep". He liked what i did in "The Silences of the Palace" as well as the woman with whom I played. He wanted both of us in his project. After this new experience, I stopped my career for six years to finish my studies until I got my law degree.
Then I returned in 2001 with "Season of men", Moufida Tlatl's movie. With this film, I went to the film festival of Carthage where I met with the Egyptian director Ines El Daghedi who chaired the jury. She wanted me to play in her new film, "Diary of a teenager". This new role has helped me to decide to come live in Egypt.

Why did you choose to live in Egypt?
When I arrived, I wanted to try something new, a larger cinema. Egypt is the "Hollywood of the East ". It is the gateway to reach 300 million Arabs. I realize it was a big risk, but I wanted to take it. Over time, I understood the difference between the Tunisian cinema and the Egyptian cinema. The first is very open, non-commercial. It talks freely about the issue of women. The scenarios express the ideas of the directors and their lives. In contrast, the Egyptian cinema is very commercial. As it's seen by all the Arabs, The directors try to satisfy all viewers.

Movies like "The silence of the palace" or "The Yacoubian Building" are always the center of controversy in Egypt. How you explain this?
"The silence of the palace" speaks about the time where my country, Tunisia was occupied. It is a well known story to the tunisian public as well as French. As for "The Yacoubian Building", made by Marwan Hamed, is the best Arab film in the last ten years. If it has been so precisely successful, that's because it shows the realities of Egyptian society that are not always rosy. This film had the most success out of Egypt.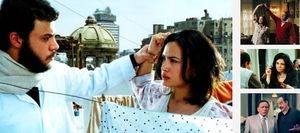 Other film widely criticized in Egypt, "Ibrahim Al Abyad", because of its very violent scenes. What do you think about it?
Yes, this film is very violent. But like Tarantino's films that are not subject to criticism. But I know this movie shocked the Egyptian spectator and I think it was very brave of the director. I usually do not dwell on criticism. The key for me is to be satisfied with what I do, whatever the film says. Those who dislike this kind of movies have to not go see them.

How do you choose the movies where you go wrong?
I love taking risks and choose the movies that raise controversies. I like realistic films that talk about the problems of the society. We must speak of our problems to solve them.

You worked with great directors, but never with Egyptian Youssef Chahine, why?
I would love to work with him but unfortunately we have not met each other. I worked with his student Khaled Youssef, in his movie "Ouija". Since the shooting, he did not call for me again. Besides I have a rule, I never ask to a director to make me work. The only time I did was with Yousri Nasrallah whom I admire greatly.

Will you play again in France?
Nobody asked me to make a movie there. And I did not asked either. The Arab world needs, in my opinion, young actors and actresses, like us, who talk about problems of our societies and try to find solutions. In France, there are plenty of actors who can speak of the difficulties of their country. And there are many North Africans actors who talk about the issue of Arabs in France, as Jamel Debbouze. To me, fate brought me to Egypt, there are 300 million Arabs who watch me and need me.

At your arrival to Egypt, was you welcomed as an Arab actress, as was the time Warda, Algerian?
Yes, I have been very well received. Egypt has always opened its door to the artists. But it takes a lot of talent here to succeed, because you have to convince the spectator. There is now a large influx of Arab actors like me. I know Syrians, Lebanesed, and at least five Tunisians who work now for Egyptian cinema. There are also two Morrocans.

What do you think of the cleavage Berbers-Pharaohs who became after Egypt-Algeria match in Sudan?
Let's stop talking nonsense. It was a football game. It is the media who have turned it into a war. It has nothing to do with the people. The way that Egyptian audience dealt with me not changed because of the game. It is a big mistake to judge people because of errors of a few supporters.

You have just been named ambassador for the World Food Program (WFP), How did this happen?
With another chance in my life. I worked with WFP for a year on a project to collect donations for the children of Gaza after the war of 2008-2009. I asked to see things on the ground. So, I traveled to Syria and Palestine where I learned what famine means. I continued to work with them later. There they named me.

What it requires from you?
I have to go to places where problems or conflicts have deprived people of their basic right: the food. I'll especially visit countries of the region such as Yemen, Iraq and Sudan. My role is to help showing the problem to the media. And try to find solutions.

You studied law, but you do not work in this area, why?
The law is an area that interests me and my wish was to become a diplomat. Now I am a lawyer before the Court of Appeal in Tunisia, but to work as a lawyer, this requires me to stop my career in the cinema. It is an obligation of the Tunisian courts. But my appointment as ambassador for WFP allows me to realize my dream in this field. I am also pleased to have achieved my other desire, that of being an actress. In both areas, which is important for me is that I represent my country, Tunisia.

Tell us about your personal life?
I do not talk about my personal life. I'm married since 2008. I have no children yet but when I have, they will be my priority. My mother worked and she took good care of us. I want to do the same with my children.

What do you think of the situation of the Maghreb community in France?
The problem is partly that the French media only talk about negative points, like the suburbs. They rarely speak of successful people. On the issue of the suburbs, these cities show the failure of French governments. They have not tried to integrate these people in the French social fabric. France has occupied their countries for a long time and I think France should reward them...

What do you think of the debate over national identity that takes place today in France?
I find it shameful. The French of North African origin are now the third or fourth generation. I do not understand how we can make them think they are not French like the others. It's a shame that France, which is committed to the principles of the French Revolution and speaks of "the French exception" in which I believe, speaks in the twenty-first century about something called national identity ...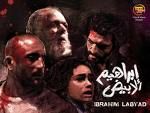 And the debate on the niqab in France, what do you think about it?
For me, the niqab has nothing to do with Islam. The Quran never speaks to us of the full veil. That said, I think it's normal to see over the heads of young girls in France. They are, in my opinion, lost between two cultures: that of the country where they live and the country of origin. It is normal that France, secular, prohibit the veil in public places. But I also think that France must respect the personal freedom in the private sphere. I think at least this debate is very healthy. We must listen to different opinions. I realize that we, as Muslims, we must work hard to change the image of Islam after the attacks of September 11.

What are your future plans?
I will soon begin shooting the series "I want to get married". The story is very original, it comes from a blog of an Egyptian girl. I find these online journals are a new way of democratic expression. For my projects in the longer term, I do not know yet. I am not an ambitious person. I'm waiting only to reap what I sowed.

This article was written for the french magazine "Courrier de l'Atlas"