Iman Bugaighis: ex-spokesman for the National Transition Council. She resigned because she wanted to return to her academic life, but she still supports the NTC. She gives her vision about the future of Franco-Libyan relations.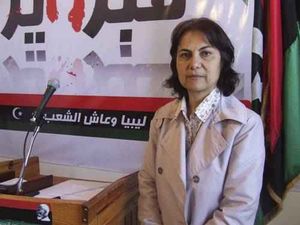 France was the first to support us since the first day of our revolution and to thank her I think she will have priority in economic development contracts in Libya.
Libyan society now looks to France, the Franco-Libyan cultural relations will therefore be strengthened. The Libyans are curious about the culture of the country that supports them from the beginning.
Libyans call on France to continue its support so they can build their country democratically, with respect for human rights, and that Libya will become an integral part of the liberal international community. They also want Paris to help shorten the current transitional period.
The revolutionaries call on France to increase its investments in Libya and have a vision for all sectors. France must help us to restore our infrastructure, to build a non-consumptive society and develop our educational system.
For tourism, France also has a role to play. We have Roman sites and a desert open for tourism, but Qadhafi has destroyed this sector.
Illegal Emigration The Libyan people are against illegal immigration. Qadhafi used this issue to leverage on Europe. We'll collaborate with France in the fight against this kind of trafficking. In addition, Europe should know that the Libyans will never leave their country when they are allowed to live with dignity.
For oil, I do not think it's a bad thing that Sarkozy is helping us coordinating the movement of Libyan oil to his country. He is a president and he should seek the interests of his people. International relations based on common interests. If Sarkozy is unpopular in France it is an internal affair that concerns only the French people.