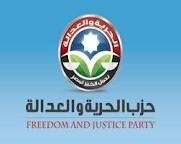 The spokesman of the party "Freedom and Justice", the political wing of the Muslim Brotherhood, Nader Omran, said the presidential candidate Mohammed Morsi is against the imposition of restrictions on freedom of creativity and innovation as long as it goes along with the customs and traditions of Egyptian society.
And Omran said that the imposition of restrictions on creativity means the death of arts and culture. "The writer and artist need freedom so they can give free rein to their imaginations", he added.

According to Omran, if Morsi was elected president of Egypt, it will have no impact on cultural life in the country. "The intellectuals and writers should not be afraid ... After the revolution we have not banned the serial al-Jamaa, which criticizes the Muslim Brotherhood and the Brotherhood's founder Hassan al-Banna, which proves that we accept the opinions of others", he said.

Regarding legal proceedings filed against certain artists, according to which they undermine Islam, Omran denied any link between Muslim brothers and trials. "I do not know why some try to get us involved in this kind of question. The complaint was filed by a lawyer who is not a member of the Brotherhood, against an artist who does not belong to the Muslim Brotherhood and the verdict was taken by a judge who is not part of the brotherhood, then what is the relationship with us", he asked.