A propos de l'auteur Simply Human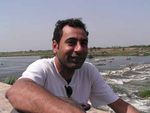 Pays : Égypte
Ville : INCONNU

Quelques mots sur moi
Journaliste francophone égyptien. Travaille depuis 1996 a l'agence de presse "Middle East News Agency" (MENA). Quand je me suis lancé au journalisme, je n'avais pas le droit d'écrire ce que je voulais en ce qui concerne mon pays. En 2009, les choses ont commencé a changer quand j'ai eu la chance d'écrire pour des medias français. Et, grace à la révolution égyptienne en 2011, je traite tous les sujets possibles. Ce blog regroupe les sujets que j'ai traité. La Glore pour les martyrs de notre révolution.
Mes centres d'intérêt
Economie, Politique internationale, Sports, Voyages
Mes films préférés
Last of the Mohicans, Brave Heart, Heat, Gladiator, Ocean 11, 12, 13, Hot shots 1, 2, Naked gun, Trois hommes et un couffin, Lord of Rings, Kingdom of Heaven
Mes musiques préférées
Toute sorte de musique specialement progressive (Pink Floyd) and heavy metal till the 90's (Metalica, Savatage)
Mes livres préférés
Mitterand et les 40 voleurs. Le Shah.