Guillaume de Dieuleveult is a french journalist for the French journal "Le Figaro". He lived in Egypt between 2006 and 2009, where he was a correspondent for "La Croix", Vatican Radio, and other French media. He has just published his book "Dictionary of unknown Egypt".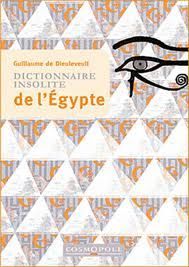 How do you see the current events in Egypt?
To be honest, a bit far. Most articles I have the opportunity to read speak of Egypt in terms "Muslim Brotherhood" versus "Pro-Mubarak". I can hardly believe the news that Egypt is reduced to this confrontation, and I am very curious to know how is the daily life in Egypt since the revolution. How is the economy? Where are the major projects: the Cairo metro, museum, Toshka, nuclear ... Foreign companies are still investing in Egypt? And what has changed in the daily life of Egyptians? Conversations are freer? What is the relationship now between the population and the police? The Muslim Brotherhood have grown in popularity since the revolution? The streets of Cairo are as safe as when I lived there ... In fact, I can not wait to return to Egypt to see all this from my eyes, and go drink some stellas in those good old Cairo bars.
You have lived in Egypt for 3 years. Did you feel that the Egyptians would have a revolution?

I did think it would happen because I thought that the regime is too powerful and the oppositions is too scattered. So I followed the uprisings in the winter of 2011 with disbelief at first, then with great admiration for the Egyptians' courage, and in the end I was proud for you. Now, can we really speak of a revolution in Egypt?
You've followed the revolution in France. What were your feelings?

I was so frustrated. I would have given much to be with you in Tahrir Square.

Do you think the Egyptians will succeed in getting rid of pro-Mubarak regime?

They have to. There was of course an intolerable corruption. But I think we should be careful not to fall into the sewage.

What do you want to say in your book?

This is a "Dictionary of unknown Egypt". This is a collection of dictionaries that give a look a little quirky, subjective, of countries and cities worldwide. They are written by people who live or have lived and provide a hence "from within". The book is for everyone curious about Egypt. I imagined someone who never came to Cairo and walking in the city center for the first time..he sees a lot of unknown things, I hope that by reading the dictionary, he can decrypt little better. The advantage of this dictionary is an easy read, with short texts. Perfect when traveling.
Why a book about Egypt? What is the idea and why now?

The French people have a long history with Egypt. This is a country which is both familiar and unknown. They study ancient Egypt in school and many of them go at least once in their live to see the pyramids and temples. But other than that ... When we talk about Egypt, we always evoke the same subjects: the pharaohs, the pyramids, the Muslim Brotherhood and the Suez Canal. In this little book I tried to talk about other things that I loved or hated in Egypt, and that fact that I remain very committed to this country. And when I look back, I tell myself that I could write a second dictionary as I still have many things to say.