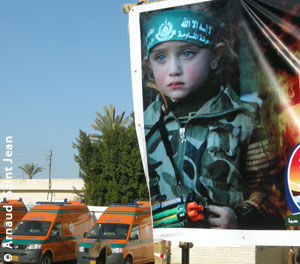 "It's terrible. We live a nightmare. It is a few meters from the bombing, and nothing can be done!" For two days Jean-Louis Roche, doctor of ADFS (association for the development of women's health), and his three colleagues ahead Egyptian side of Rafah crossing to enter the Gaza Strip. Their only hope: the cease-fire that seems to be emerging between Hamas and Israel.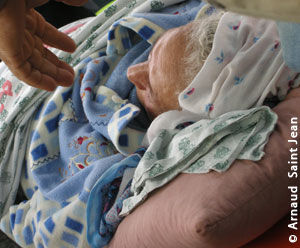 At their sides, others are also do the hundred paces, phone in hand. They are journalists from around the world. Some just arrive from Israel, where access to the Gaza Strip was denied. In the hope that they can move, they cover, as screwed back, huge bags. On the inside, a gear to inform as soon as possible: satellite phones, video cables, computers...
Robert Ménard, former secretary general of "Reporters sans frontières", agitated in every direction. At the head of the center of Doha for the freedom of information, he came with 17 journalists from various nationalities. "We are here for two things: stop the information blockade by allowing foreign journalists to testify, and distribute to our Palestinian brothers what to work with. "We have cameras, bulletproof vests, but also paper, pens ... Things that seem simple, but they do not have", he said.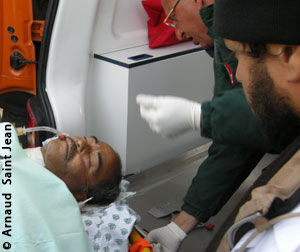 The only ones who can enter Gaza are dozens of trucks of humanitarian aid came also from around the world. Blankets, bags of flour or sugar and even wheelchairs will be in a few hours in the heart of Gaza City. While waiting their drivers, other vehicles are hurrying. These are the Egyptian and Palestinian ambulances to return to Gaza hospitals. A board, men and women but also young children in mines, exhausted, testify to the horror they are living. Among them, Ahmed, 30, accompanies a young person's face completely bandaged. "This is my nephew. He was burned in the third degree. A missile hit the building of four floors. My whole family lived on the inside. Four have died."
Once evacuated the wounded, fifty a day, Palestinian ambulances leave loaded with medical syringes, medicines, surgical instruments...
It's five o'clock in the evening. A blast has occurred on the other side of the border. The truce of three hours daily just ended. The Israeli F-16 fly now in the sky. A real rain of missiles hit Gaza.
This Article is written with Marion Touboul for "La Vie" french magazine www.lavie.fr